On July 28, the 2022 China Manufacturing Design Conference - Yuelai International Design Forum opened in Chongqing Yuelai International Convention Center. More than 200 industry experts from many countries and international design organizations and institutions gathered online and offline to jointly discuss the path to facilitate the transformation of products from made-in-China to created-in-China as well as the transformation of China from a major manufacturer to a manufacturing power, so as to support the high-quality development of China's manufacturing industry.
Focusing on the theme of "Design Enables Intelligent Manufacturing", the keynote forum invites heavyweight guests in the global design field to talk about the bright future of the development of the design industry. The theme of sub-forum one is "Italian Design for a Better Life", the theme of sub-forum two is "Smart Design Creates Future City", and the theme of the concurrent event is "From Singapore to Chongqing - Forum on Developing the 'Capital of Design'". The concurrent event invites well-known design institutions and design masters in Singapore to share design theories and practical cases online, and interact with Chongqing manufacturing enterprises with industrial design needs offline.
In addition, the 2021 "Smart Expo Cup" China (Chongqing) Industrial Design Competition Award Ceremony, investment promotion signing ceremony, World Design Industrial Park Kick-off Ceremony, inauguration ceremonies of "National Industrial Design Center", "World Green Design Park" and "Automotive Design City" were held on the spot.
Award ceremony [Photo via Chongqing Yuelai Investment Group]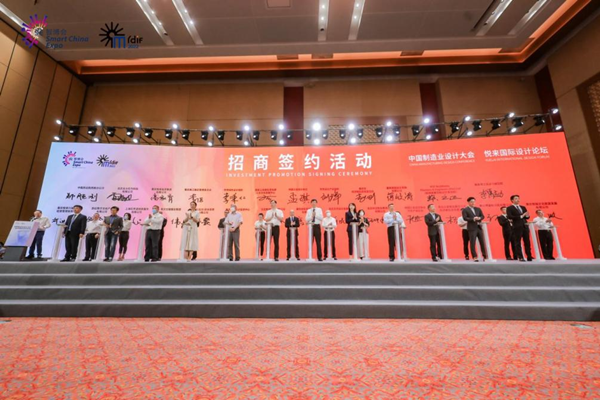 Investment promotion signing ceremony [Photo via Chongqing Yuelai Investment Group]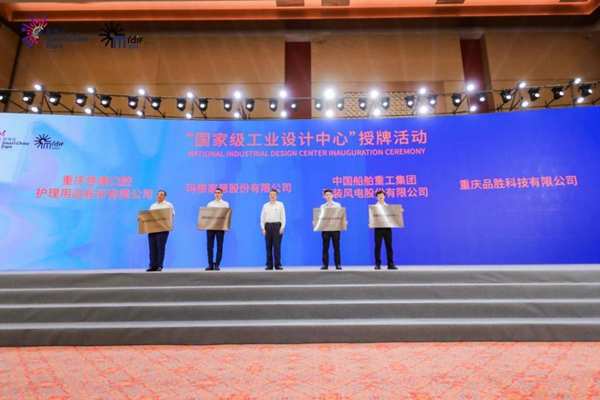 The "National Industrial Design Center" inauguration ceremony [Photo via Chongqing Yuelai Investment Group]
According to the relevant person in charge of Chongqing Yuelai Investment Group, the 2022 China Industrial Design Innovation Achievement Exhibition which integrates "interaction + education + entertainment" will be held at the Yue · She Creative Art Exhibition Center. The exhibition involving electronic equipment, artificial intelligence, aerospace technology, equipment manufacturing and other industries will display the latest technologies and achievements of Chongqing's modern manufacturing industry, demonstrate the power of design innovation, and lead the trend of industrial innovation.